Teachers and Students
Poster: Be Safe and Secure Online
Manitoba Ombudsman and the Office of the Children's Advocate have produced a poster for young people with some simple reminders for staying safe and secure online. The poster is available in English and French by contacting either office.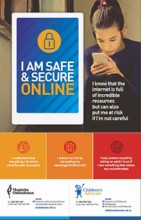 Joining the Herd Curriculum Guides
Our new collection of learning activities is coming soon!
Joining the Herd (2007) and Joining the Herd II (2011) were developed to assist teachers and students in their journeys to active and informed citizenship.
The youth rights pamphlets were prepared through a joint initiative of the Office of the Children's Advocate, the Manitoba Human Rights Commission and Manitoba Ombudsman. The pamphlets were designed to promote an increased awareness and knowledge of youth rights as well as avenues through which rights concerns can be addressed.